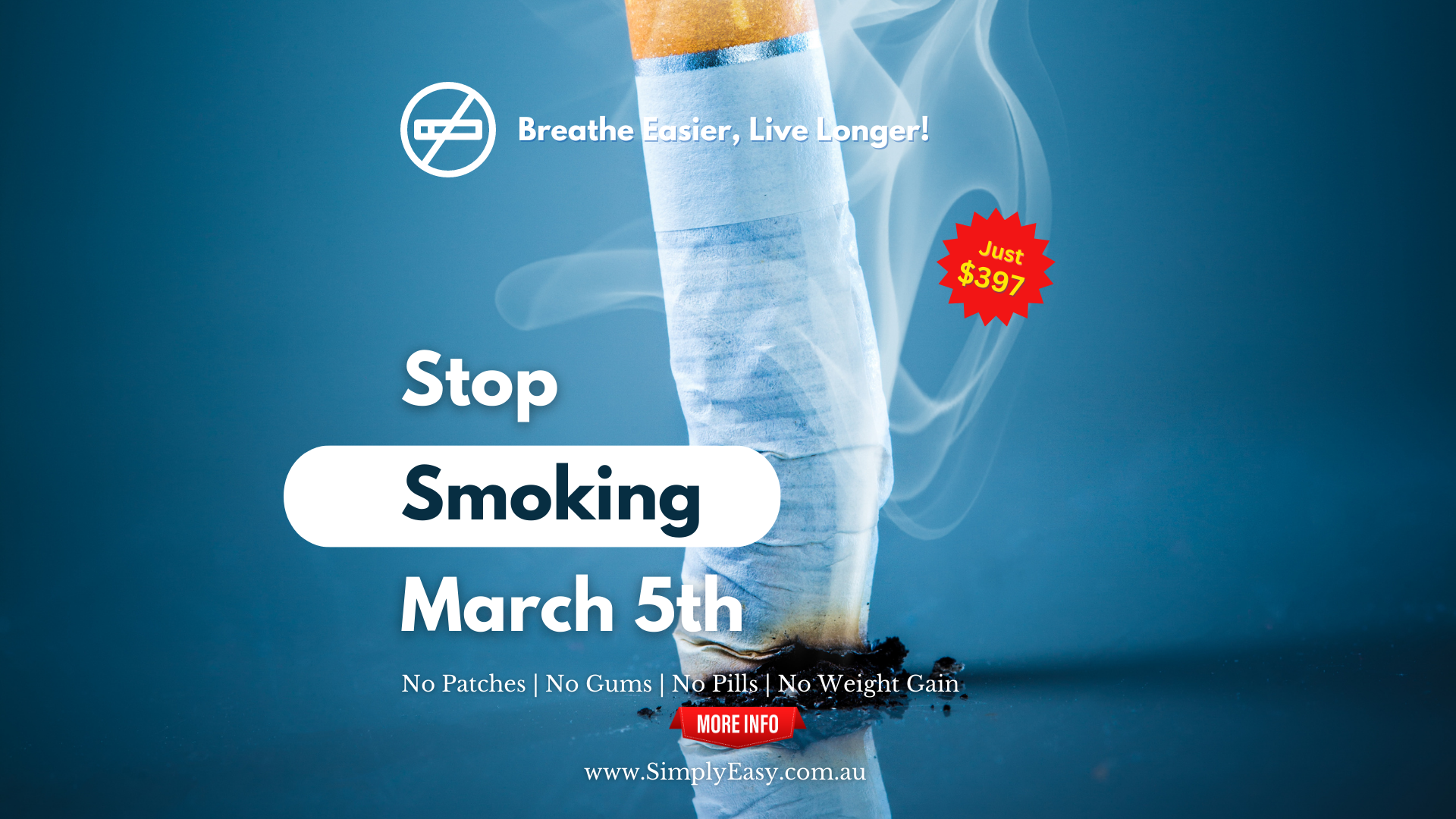 Mar
05

Stop Smoking, Gold Coast, March 5th
by Mark Anthony Events
$397
STOP SMOKING… Breathe Easier, and live a SMOKE-FREE LIFE!
No Willpower, Weight Gain, No Injections, No Replacement Products, No Pills,

No Upsells, … Just SIMPLY EASY!
Are you sick and tired of being sick and tired?
Want to Stop Smoking NOW?
Mark Anthony is one of Australia's Leading Hypnotists, he's helped hundreds of people to Stop Smoking using his 'Simply Easy' Method. Whether this is your first time at becoming a Happy Non-Smoker, or you have tried just about every method under the sun and spent thousands on giving up smoking… There is no doubt that the 'Simply Easy' Method is for you.
It is backed by a 100% Money Back Guarantee* (conditions apply), has proven to be successful for all types of smokers, and is one of the most affordable stop-smoking methods available today.
At 'just $499' $397 this very tiny investment in your future health will certainly gain you a much more financial profit – and give you back something money can't buy, your health and your time.
More information and LOTS MORE Testimonials: www.HappyNonSmoker.com.au
IMPORTANT!


Very limited spaces, only 4 spaces available.. that way, I work very closely with YOU… Bookings essential!
TESTIMONIALS
Hi Mark Firstly I would like to say THANK YOU I have not felt so good in like forever! I have QUIT smoking for good!!! I have had a number of potential "excuses" to take up the nasty habit again but I didn't! It was SO EASY to quit smoking as I have tried to quit before to no avail but now I can say I AM A HAPPY JOYOUS NON SMOKER!!!! Thank you Andrew F
Hi Mark, Thanks for the email, just wanted to let you know that I will not be attending another as both my girlfriend and myself haven't had a smoke since we walked out the door of your Stop Smoking seminar. Thanks again, it was money well spent. Jarrad, Gold Coast
*IMPORTANT: YOUR results are based on YOUR commitment to the seminar, and the simple instructions that follow. We know the system works, it's worked for MANY HUNDREDS of other smokers, who are now Happy Non-Smokers – You know whether you will follow simple instructions or not, if you won't, then don't come along.