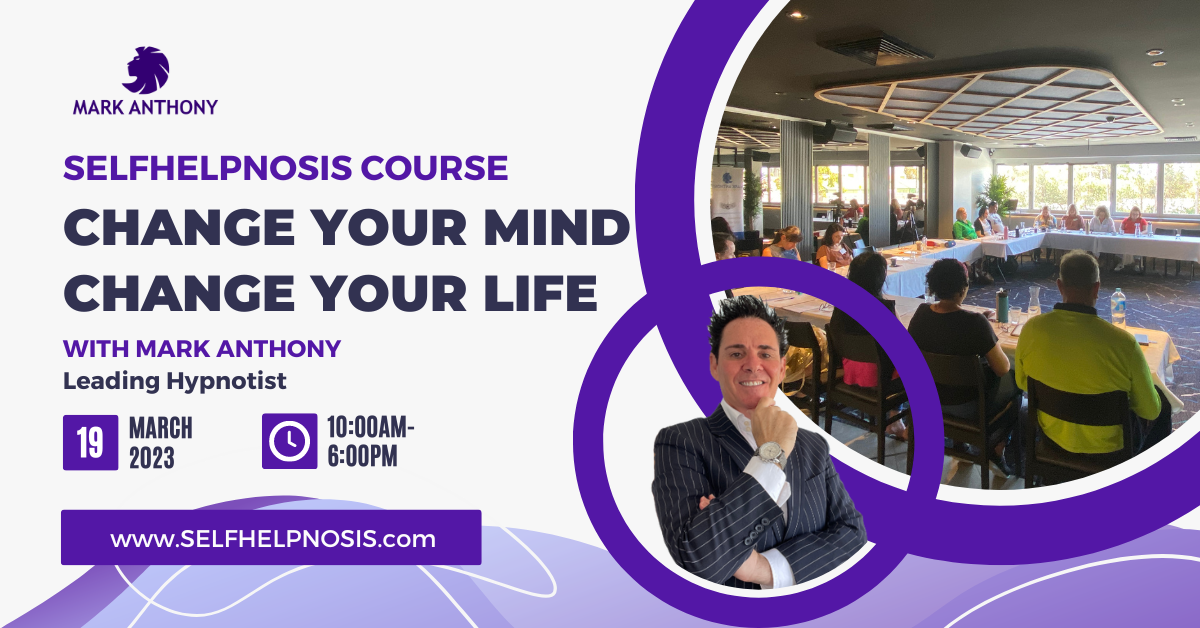 Mar
19

Change Your Mind, Change Your Life – GOLD COAST 2023
by Mark Anthony Hypnosis Academy
$97 – $297
Could YOUR Life Do With A Life-Changing Makeover?
"Your life doesn't change by chance, your life changes by choice!"
Join Leading Hypnotist Mark Anthony, Author, Life Coach 'Real', and Speaker live' on the Gold Coast for this 1-day life-changing course.
It's time to act, right now!
What if you had the tools and the skills to:
Take your life to another level. Take back control of your life. Take a different path in life. Achieve things in your life you never dreamt possible.
This unique course combines Self Help and Self Hypnosis, giving you the tools and the skills to break through your old limiting beliefs, overcome adversities and fears that have been holding you back in life, and help move you to another level.
THIS COURSE IS FOR YOU IF:
. You Are 11 Years And Older
. You Want More Out Of Life
. You Want To Break Through Your Fears And Limiting Beliefs
. You Want To Stop Blaming Your Adversities For Your situations in life
. You Want To Invest A Tiny $97 In Your Future Self
. You Want to Learn The Skills And Tools Used By Leading Hypnotists, Self Help Gurus And Life Coaches To Change Millions Of Peoples Lives
THIS COURSE IS NOT FOR YOU IF:
. You Are Happy Being Unhappy
. You Don't Want To Invest In Your Better Future
. You Are Happy Blaming The Rest Of The World Or Others For Your S*it Life
. You Don't Want To Take Ownership Of The Things You Do Wrong
. You Are Content With Using The Whoa Is Me, Poor Bugger Me, I'm Entitled, The World Owes Me Attitude, For The Rest Of Your Life
Why choose Mark Anthony to help change your life?
Mark is a 'real life' coach and that is why Mark can relate to almost all of his clients and students, here are just some of the adversities and challenges Mark has gone through:
Mark lost 6 of his childhood friends to drugs, used drugs himself, went through domestic violence, grew up in a single-mother family, watched a sibling do life for murder, worked for an underworld figure, grew up in one of London's infamous housing commissions, spent years in a children's home, spent months in a young offenders prison, lacked confidence, lacked self-worth, smoked 30 cigarettes a day for years, was very overweight, and so much more!
Read more of Mark's life story here: www.RogueHypnotistBook.com
Mark has completely turned his life around for the better using the tools and skills that he will teach YOU at this Life-Changing 1 Day Course!
See more of how Mark's life has turned around here:
www.Hypnotist.com.au
Although Mark's style isn't for everybody, due to his approach being very unconventional, direct, and straight-talking, there's no pussy footing around you, he gets results, and that's what his clients and students want, as we're sure that's what you want!
For a 'tiny' investment of just $97, Mark will teach you in the most simple and easy-to-understand way, guaranteeing that you'll understand how and why your life can change starting from the moment you attend the course.
Mark will teach you how to sleep better, believe in yourself, have more self-worth, overcome fears and phobias, have super confidence, reduce stress levels, stop smoking, achieve dreams and goals, lose weight, increase positivity and so much more!
So, for those who are ready to turn life's challenges into opportunities, take back control of their lives, and break through limiting beliefs, Reserve YOUR Seat NOW because this course is for YOU!
Where: Gold Coast Tavern (upstairs function room), 150 Bundall Rd, Bundall QLD 4217
When: Sunday, MARCH 19th 2023
Time: 10 am – 6 pm
LIMITED SPACES!
Don't Miss Out! – BOOK NOW!
IMPORTANT NOTE!
This course is not open to other hypnotherapists or hypnotists
(you should already know and use these tools), it is for others looking to change and better their lives using Self Help and Self Hypnosis.
REFUND POLICY!
There is a strict 'no refund' policy for people who just don't show up without 5 days' notice!